The Old Silk Route or Silk Road which passes through East Sikkim was a part of the ancient network of trade routes which connected China to India. This route passed through Nathu La Pass and Jelep La Pass. This Ancient Silk Route was discovered by traders as early as First Century AD.
Along with silk, tea, horses and many other treasured commodities were traded. This route connects Sikkim, West Bengal, China and other places. During the winter season between November and April, this route would be totally covered by snow making it the most inhospitable route. During summer and early winter, this route would be a paradise. This route connects some of the heavens in the world, such as Changu Lake, Old Baba Mandir, Kupkup Lake, Gnathang Valley, Zuluk, Padamchen, Lingtam, Aritar.

New Jalpaiguri railway station (NJP is the nearest major rail head. New Jalpaiguri is well connected to the rest of India. There are regular train services to all the major railway station like Chennai, Jaipur, Delhi, Kolkata, Patna, Mumbai, Bangalore, etc.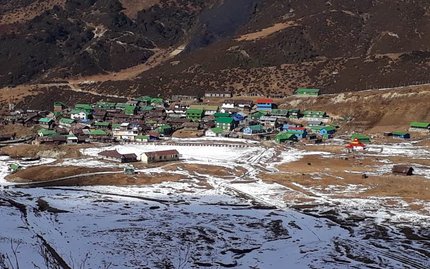 Gnathang Valley or Nathang Valley is popularly called the " Ladakh of the East India". Situated at the height of 13,500 ft. above the sea level Nathang Valley is one of the most beautiful places in Old-Silk-Route. The valley changes its color according to seasons. It is dressed in golden in autumn due to the drying up of the grass. Snow clad in winter, it is strikingly white in color. Spring however, is the best time as a blanket of wild flowers covers the valley, dressing it up in vibrant hues of color. There is snowfall during winters. Nathang Valley has a host of beautiful lakes you can see. There is a small Buddhist Monastery which is a popular tourist attraction. The valley is surrounded by the Himalayan Mountains with meandering streams cutting across it. The vast stretch of grassland is far away from the city landscape. The mountains are perfect for trekking as well.
Place of Interest
Old Baba Mandir

Changu Lake

Eagle's Nest Bunker

Four Lake Point

Jelepla Pass

Kupkup Lake

Ice Golf Course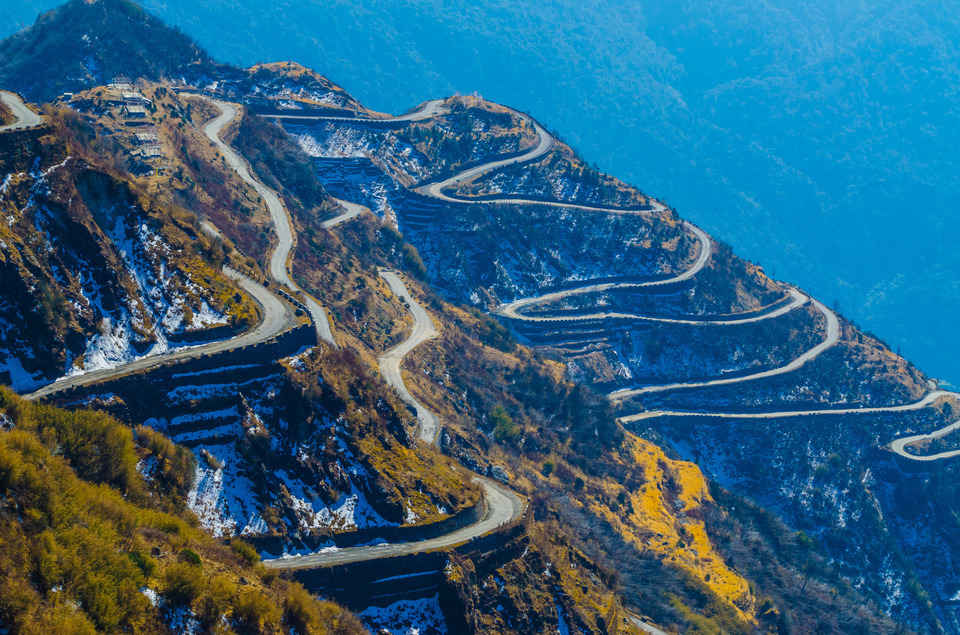 Dzuluk or Zuluk is a small hamlet located at a height of around 10,000 feet (3,000 m) on the rugged terrain of the lower Himalayas in East Sikkim.This place is relatively an emerging and offbeat destination in East Sikkim. The summer temperature would be near 20 °C (68 °F) with substantial difference between the day and night temperature. The rainy season is a little protracted and heavy to very heavy showers are common. The winter may see snowfall in the area of about 3–5 feet (0.91–1.52 m) of snow. Due to poor quality of the soil and vagaries of weather, farming is well high impossible. Neither is there any possibility for cattle rearing as an occupation; most of the land is fenced and military-controlled, making it unfit for grazing. Construction and road maintenance are the only livelihoods.
Place of Interest
Thambi View Point

Lungthung

Zig Zag Point

Young Husband's Track
Perched on a hill slope at 8000 ft and covered in dense forests, Padamchen is a small village on the Silk Route circuit just 14 kms from Rongli and 4 kms from Zuluk. Padamchen experiences a very pleasant weather through out the year and this is one of the main reasons for its popularity. There is a wooden Forest Rest House dating back to the colonial era where tourists can manage to stay at apart from several homestays that have sprung up recently.
Place of Interest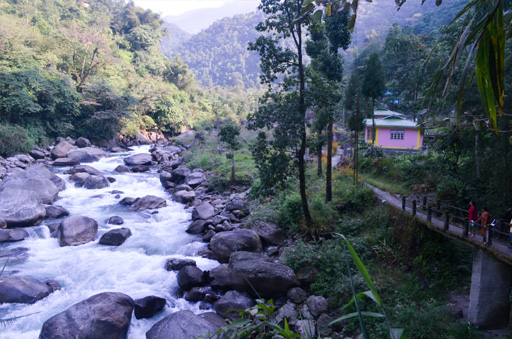 The small but very beautiful village is Lingtam, which is on 4.000 ft. above sea level. You can enjoy huge green and greenery valley, spirally flowed river and silence of river,only sound is tweeting of different bird on trees can be heared. Lingtam or Lingtum is the first village with a check post after Rongli on this route if one move to silk route directly from NJP/IXB via Aritar. It is a very peaceful small village with a sparkling weather guarded by a small river called Bakhuter Khola.
Aritrar, at around 4000 ft. is another popular starting or ending point travelers opt for Silk Route Region of East Sikkim. This infact is a slight detour from the actual old silk route. What makes it worth a visit is an Artificial Lake with boating facilities (probably the only one in Sikkim), a British era Dak Bungalow inside a forest which tourists can stay in, and a hilltop view point offering a majestic sight of Mt Kanchenjunga on a clear morning.
The lake is called Lampokhari (Pokhari in Nepali means small lake or pond). Earlier a natural lake later artificially reconstructed to facilitate paddle-boating facility.
Place of Interest
Lampokhari Lake
Dak Bungalow (British Bungalow)
Rishikhola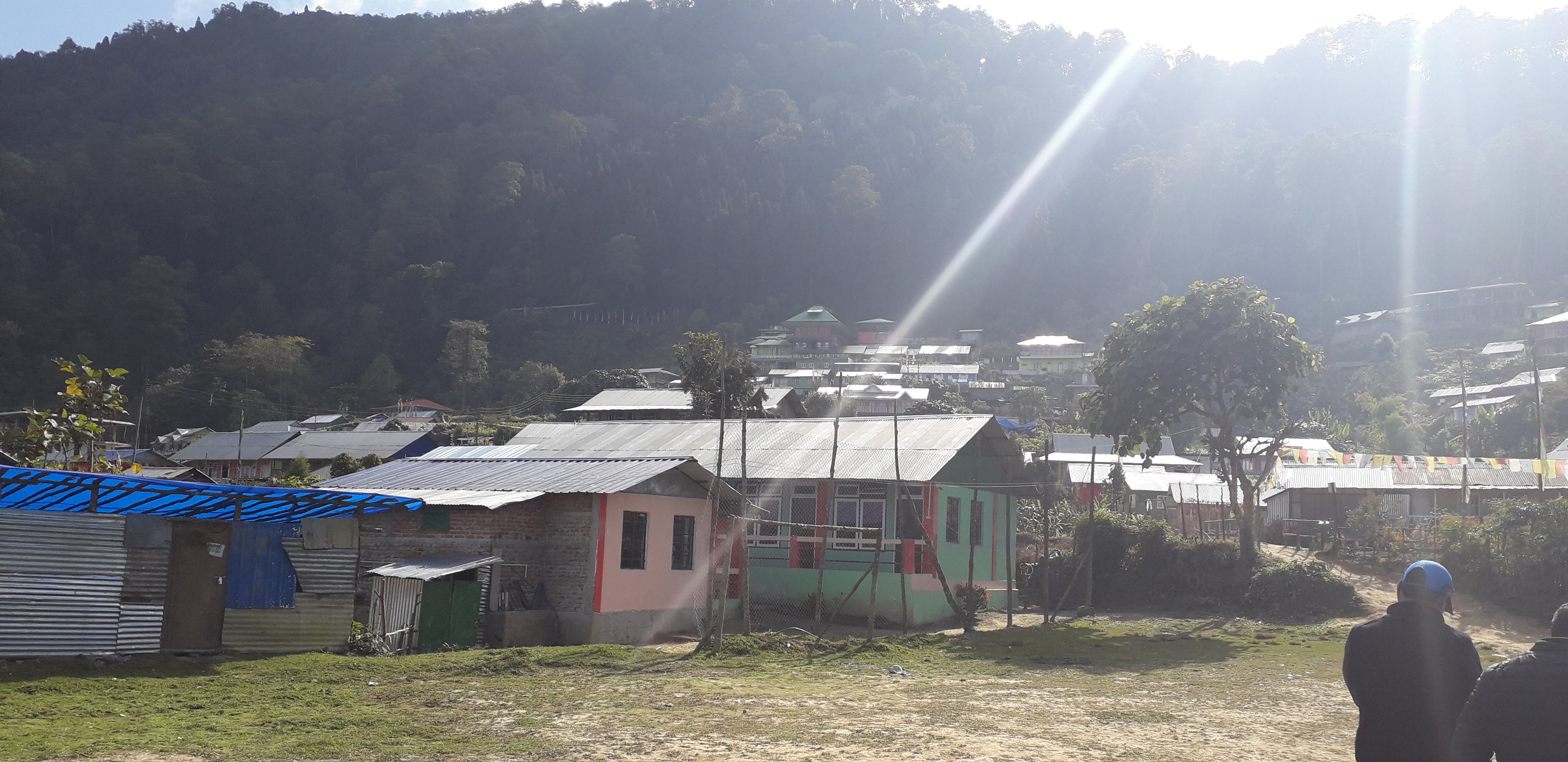 Sillerygaon is a beautiful hamlet in Kalimpong District of West Bengal. It is located at an altitude of 6000ft. The name Silery Gaon represents a plant named called Sillery that grows there in abundant. The sight of the silver shimmering Kanchenjunga, which attract every travelers toward Sillery Gaon, surrounded by lush pine tree. Sillery Gaon is the haven of varieties of exotic bird species, which makes it an ideal place for passionate bird watchers. A visit to the Damsang Fort, located 4 km away from Sillery Gaon and Ramitey Dara is must visit destinations in Sillerygoan. The nearby destination from Sillerygoan is Pedong, Icchegoan, Rishikhola which can be covered easily from Sillerygoan.
Place of Interest
Icchegoan
Rishikhola
Pedong
Damsang fort
Ramitey Dara