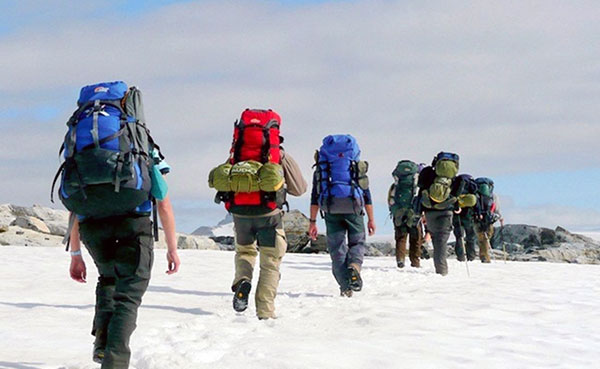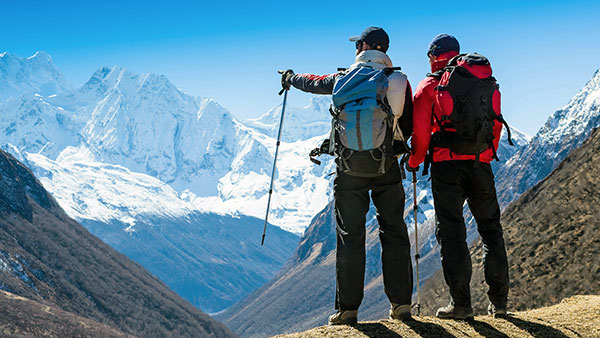 "he woods are lovely, dark and deep, But I have promises to keep, And miles to go before I sleep, And miles to go before I sleep"
From - Stopping by Woods on a Snowy Evening by Robert Frost
At home this type of exercise is called backpacking or walking but, the same activities when done in any part of the world, it's called trekking. Walking on the trails in the Himalayas is a wonderful life time experience because its natural teachings cannot be expressed in words but can only be felt. Trekking are carefully planned and thoughtfully executed by us. It means that all personal equipment is carried for travelers, meals are cooked, and travelers are looked after by staff. Very significantly, it enables the guide to supervise camp hygiene and other things. Magellan Vacations will even send you information including; a daily trek itinerary; detailed information about what you need to bring for trek; information relating to health issues etc. This is one of the greatest attractions in this Himalayan belt of Nepal, Sikkim, Darjeeling, Bhutan and adjoining region. This vast stretches of unspoiled mountain ranges are delight to trekker's and its amazing range of flora and fauna are value additions. Most of the trek routes pass through forests of alpine vegetation and rhododendron. The views of the Kanchendzonga peaks in the background are mesmerizing. The additional advantages are floral spectacle including rhododendrons, primulas and blue poppies during spring and autumn, birds and views of pristine forest all around. Trekking is different from other sorts; it tends to be less organized than other sort of travel. Apart from the stunning scenery and expansive views, it generally allows interacting with nature. Trekking can be done anywhere in the world and the most exciting sites particularly popular with travelers are the mountainous regions of the Himalayas in Asia and the Andes in South America. Several pieces of gear like a comfortably fitting backpack, another is sturdy hiking boots. Wearing the right pair of boots can make the difference between enjoying a trip and being in pain. Other equipment includes warm clothing, a first aid kit and a supply of food and water.

Tips for Trekkers
We have schedule of trek with short distances. So that trekkers can adjust and pick up speed in the latter stage of the trek. It does not require much effort or preparation. Dieting for a week or two and 3 to 4 kilometers of walk is enough to join and enjoy trekking. Reduce drinking alcoholic beverage & smoking habits when planning for the trek starts. In higher altitude Oxygen is less. The inclement weather and high altitude might induce general uneasiness like headache, breathlessness, nausea etc. Acclimatization before the start of trek is always advisable. The idea of long trek is to slow down
Rest & Relax whenever possible (Do not exert)
Talk less and observe silence
Walk slowly (If you feel uncomfortable stop and rest)
Keep light luggage
Walk 15 minutes and rest 5 minutes alternately
Avoid or reduce smoking, alcohol, etc
Consume water and glucose whenever possible
Never proceed either on empty stomach or heavy food
Engage in pleasant thoughts or listen to your favorite music, etc
It is better to be over clothed
Avoids taking bath or drinking water on the route
Keep your boots dry
Face, feet and hands must be well protected
Always listen to your guide and never leave the group
Necessity for Trek
The clothing and equipments are suggested for protection and safety. Some of the items mentioned are carried by porters. Please check that the minimum requirement is carried and avoid unnecessary papers and materials
Sleeping Bag / Torch / Swiss knife / whistle
First aid box / personal medicine
Woolen and cotton socks
Thermal Inner wear / Woolen pullovers / thermal wear
Warm gloves / Monkey cap/ Muffler / Sun hats
Comfortable Trekking boots
Sun / Snow glasses
Towels small and big
Hot water bottle
Light bag with personal belongings
Rain coat / mackintosh
Camera / Binoculars
Toiletries
Pens with Papers and Book
Accommodation
While in trek the stay will be in as per the contract. Accommodation will be in tents or very simple guest houses if available at site or trekkers hut with basic toilet facilities. Our representative will attend to all the camping responsibilities along with the porter. Please bear in mind that the comfort and destination may not match your home or a any star. It is totally different mission and it is challenging. It is your spirit and enthusiasm and will power, which will carry you through.
Best Time to Visit
February to April and October and November is the best time to trek. Monsoon is severe and the rest of the period is not ideal as the Himalayan range generally stays covered with clouds.
Communication / Connectivity
There are many airports in the region for Nepal Kathmandu, Bhadrapur, and many other airportswith flights and helicopter services available throughout the year. For Bhutan Guwahati and Bagdogra is the nearest airport, Paro is the only airport for Bhutan. Bagdogra in Siliguri, Guwahati in Assam and Itanagar in Arunachal Pradesh are having airport to serve the region. Amazingly the whole of north east India from Mizoram, Meghalaya, Tripura, Assam and Sikkim, Darjeeling are all linked up with railways and roadways Bhutan and Nepal is linked up with direct road through India and is hardly 5 hours drive and they are all linked up with India with good network of roadways and their respective transport system
Trek Routes
Nepal, Bhutan, Darjeeling and Sikkim are known for the trekking routes. All the routes either originate from here or have to pass through the region.
Some of The Internationally Acclaimed Trek Routes in Sikkim and Darjeeling Area are
Dzongri Trek (Moderate)
Dzongri Round Trek (Strenuous)
Singalila Trek (Moderate)
Green lake Trek (Moderate)
Green lake Round Trek (Strenuous)
Maenam Trek (Soft Trek)
Uttarey – Varsey Trek (Soft Trek)
Sandakphu Trek Darjeeling (Moderate)
Sandakphu Trek Darjeeling & Sikkim Trekking (Moderate)
Some of The Internationally Acclaimed Trek Routes in Nepal Area are Region Based and Each Region Have 5 to 6 Popular Trek Route. Trekking Facilities in Nepal are Better but Costlier Than Other Regions in Himalaya.
Everest Region
Annapurna Region
Langtang Region
Manaslu Trekking
Mustang Trekking
Kanchenjunga Trekking
Makalu Trekking
Ganesh Himal Trekking
Dolpo Trekking
Rolwaling Trekking
Rara Lake Trekking
Some of The Internationally Acclaimed Trek Routes in Bhutan Area are Dzongkha Based
Dagala Thousand Lake Trek - Khoma - Simtokha - Thimphu
Druk Path Trek - Paro to Thimphu
Jumolhari Trek I (Round Trek) - Drukgyal Dzong) Paro - Dodena -Thimphu
Jumolhari Base Camp Trek II - Paro - Jumolhari - Jangothang - Paro
Laya Gasa Trek - Extended Jumolhari trek
Gangtey Trek - Paro - Thimpu - Gangtey - Thimpu - Paro
Snow Man Trek - Punakha – Wangdi
Trekking is best attempted initially with someone who has experience or in a professionally managed group. There are few short treks in this Sikkim and Darjeeling region which requires no preparation and are through beautiful forested area or near lakes and rivers. They are enjoyable and some of them can be really good.