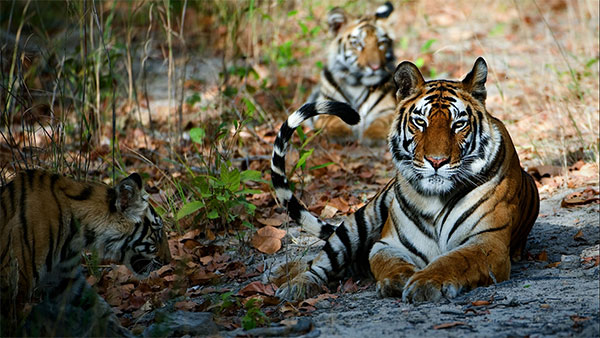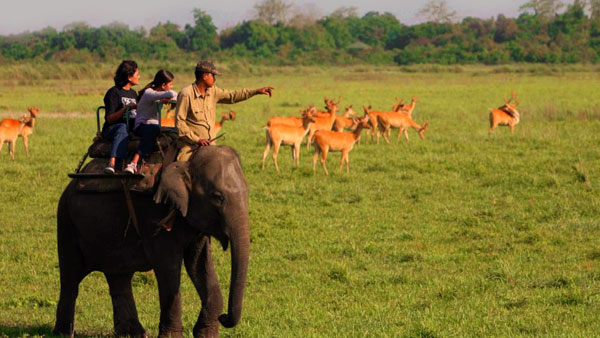 There are cruising route through snow bound route, cold desert or through forest are all have picturesque setting. The region has breathtaking views of the Himalayan range, superb sunrise and sunset, picture post card hamlets, exotic flora, forests, and ideal for cruising. Any routes you travel forest and snow clad mountain are there with you as this region has more than a dozen Sanctuary and National Parks. The road are good and except in the monsoon season but the drive is always magnificent. A leisure drive will provide you with scenic beauty passing through tribal villages and Hamlet. Spectacular views to watch and appreciate the beauty and you may come across wildlife anywhere in any stretch. This thrilling drive is accompanied with the views of the beautiful tea gardens and rivers. If you are the lucky ones Elephant herd will positively force you to divert your route. The drive will take you to places off the beaten track… as well as a chance to encounter wildlife. The safari generally goes through exciting route of winding roads, a few narrow unsurfaced roads where 2 vehicles cannot easily pass each other. The road passes through lush green pine forests, the trees soaring up 20 meters. Road hazards include flocks of cows, goat or buffalos and traditionally dressed village women.

What is a Safari Tour?
For the guest / tourist who do not want to waste time getting into the action this is the region with diversity of natural habitats and beautiful scenery. Safari offers a planned tour with set items. It is a great option if you are unfamiliar with an area and do not want to drive by yourself. Visitors to Dooars are often pleasantly surprised as this region is rich in natural resources and leaves a definite impression through its unique rugged desert in north Sikkim to the lush green beauty in the Dooars with hilly landscapes, sunshine and wildlife. The drives are a bit dusty but rough and ready day for the more adventurous through rugged paths. It is an inland to explore the unexplored. Prepare for the ride of your life. One should set off early in the morning as the sun's rays are beginning to light the surrounding hills with the background sound of bells as the flocks of domesticated herd walks towards the grazing ground or start just before sunset. One can also have an option to drive at night and wait near any water bodies but this is restricted to Dooars only.
Accommodation
Magellan Vacations offer selected hotels and apartments for leisure and business visitors. Our selected hotels vary from elegant traditional resort hotels to modern built buildings giving easy and usually direct routes to all parts of the tourist destinations in the region. Our friendly Magellan's hotels are committed to offer quality, comfort and value, often at discounts, with secure bookings. We aim to be your preferred hotel guide in Sikkim, Darjeeling, Assam, Arunachal Pradesh, Tripura, Meghalaya, Nepal and Bhutan.
Vehicles
We have a wide range of option for vehicles starting with Maruti Van, Tata Indica, Tata Sumo, Qualis, Travera, Innova and you name it we will arrange the rest. Our Chauffer / Driver are well conversant with the routes and will guide and advice you for any diversion and better option of sight seeing. They are well trained and will go out of the way to help you. Off course you have to ask them. Generally they keep to themselves unless asked for.
Wildlife
North East India is the reserve of the worlds greatest diversified Flora and Fauna perhaps the only one to stretch from the subtropical to the Alpine. Safari can also be enjoyed in the cold desert area of Dyoinkhela, Yumthang, Thangu, Mangan and Gurudongmar in North Sikkim. Safari to Tawang Monastery in Arunachal Pradesh and Doechela Pass of Bhutan are equally exciting.
National Park & Sanctuaries of Nepal
Royal Chitwan National Park
Royal Bardiya National Park
Koshi Tapu Wildlife Reserve
Parsa Wildlife Reserve
Royal Sukla Phant Wildlife Reserve
National Park & Sanctuaries of Bhutan
Phipsu Wildlife Sanctuary
Protected areas of Sikkim
Kyongnosla Alpine Sanctuary
Shingbha Rhododendron Sanctuary
Meanam Wildlife Sanctuary
Varsey Rhododendron Sanctuary
Fambong La Wildlife Sanctuary
Kanchendzonga National Park
National Park & Sanctuaries of West Bengal (North)
Buxa Tiger Reserve – Bordering Bhutan
Gorumara National Park
Chapramari Forests
Mahananda wildlife Sanctuary
Jaldapara wildlife Sanctuary
Neora Valley – Bordering Bhutan
Singalila National Park
National Park & Sanctuaries of Arunachal Pradesh
Mouling National Parks
Namdapha National Parks
National Park & Sanctuaries of Assam
Dibru - Saikhowa National Parks
Kaziranga National Parks
Nameri National Parks
Orang National Parks
National Park & Sanctuaries of Manipur
Keibul Lamjao National Parks
Sirohi National Parks
National Park & Sanctuaries of Meghalaya
Balphakram National Parks
Nokrek National Parks
National Park & Sanctuaries of Mizoram
Murlen National Parks
Phawngpui National Parks
National Park & Sanctuaries of Nagaland